Indoor League - Senior
Indoor League - Team Registration for Winter 2022
---
PEI Soccer accepts only team registrations for its Fall and Winter Indoor Leagues.
Individuals looking to play can email admin@peisoccer.com with the following:
Name - Age - Playing Experience (level you wish to play).
For Fall League, there will be Division 2 and Division 3.
If not enough teams register for one division - all teams will be entered into the same division.
For Winter League, there will be Division 1, Division 2 and Division 3.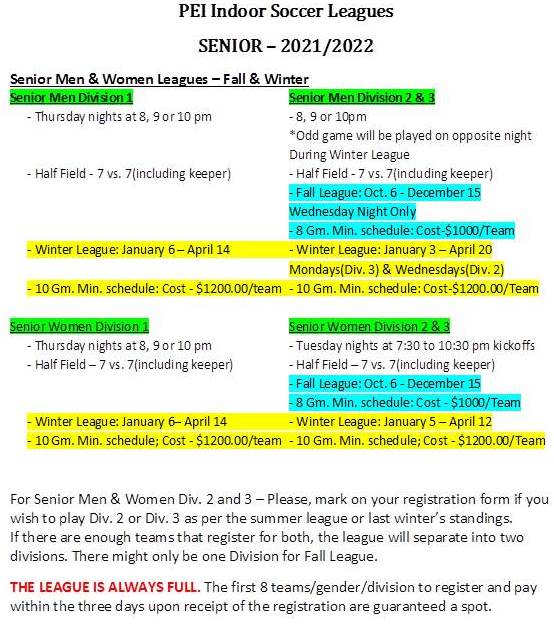 All team staff and players must be double vaccinated in order to participate.
All players not registered with a club for this past summer soccer season(summer 2021) or for the Fall Indoor League must register with PEI Soccer in order to be eligible to play in the Winter League.
STEPS: Use the same account that was used to register with your club this past summer or CREATE ACCOUNT IF NOT REGISTERED WITH A CLUB - SELECT PARTICIPANT - SELECT SENIOR INDOOR SOCCER LEAGUE
SEPARATE TEAM REGISTRATIONS ARE REQUIRED FOR FALL AND WINTER LEAGUE REGISTRATIONS
THERE MIGHT BE A TEAM FROM SUMMERSIDE OR WEST PRINCE IN YOUR DIVISION.
IF SO, ALL TEAMS WILL BE REQUIRED TO PLAY A GAME IN SUMMERSIDE AT LEAST ONCE AND A MAXIMUM OF TWO REGULAR SEASON GAMES IN SUMMERSIDE.
REGISTER YOUR TEAM FOR INDOOR LEAGUE - WINTER 2022 HERE - TEAM REGISTRATION FORM