Whitecaps Showcase - Vancouver
---
---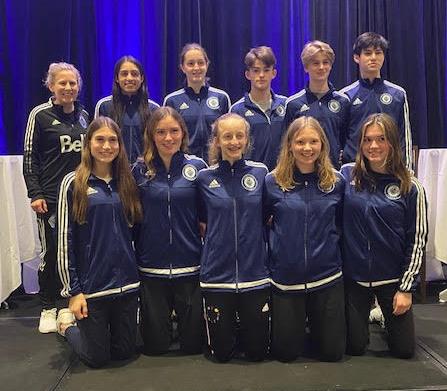 ---
Back row (L - R):
Emma Humphries - Whitecaps Director of Women's Football Development
Maiya Chaudhary - Stratford SC
Addison Langley - Central Queens Clippers SC
Liam Boswall - Eliot River Ramblers SC
Chase Bell - Sherwood-Parkdale Rangers SC
Merlin Devine - Winsloe-Charlottetown Royals FC
Front row (L - R):
Bella Vos - Winsloe-Charlottetown Royals FC
Emma Matheson - Sherwood-Parkdale Rangers SC
Juliette Bader - Winsloe-Charlottetown Royals FC
Sonia Perry - Sherwood-Parkdale Rangers SC
Kailyn Gallant - Summerside United SC
Congratulations to the players identified by Whitecaps Academy Centre Director Mike Ayyash and PEI Soccer Technical Staff.
The Vancouver Whitecaps operates high-performance centres across the country in partnership with provincial soccer associations.
The purpose of this event is to bring all those centres together to compete, develop, and showcase players in front of professional, college and national team coaches.
Objectives:
- Competitive outlet, best with best
- Player identification by Whitecaps FC staff for BOYS MLS Academy and Girls Elite REX Programs, national team staff, and college coaches
- Education on the club's system and development philosophy for players & staff for both Boys MLS Academy and Girl's Elite REX programs
Participation:
Girls and Boys high-performance teams across U14 (2008) to U18 (2004) age groups
> Whitecaps FC full-time program
> BC Soccer
> WFC Calgary
> WFC Edmonton
> Saskatchewan
> Manitoba
> London, ON
> Atlantic Canada Development Centre
> Newfoundland & Labrador