Soccer Saturday - U13 Champions
---
---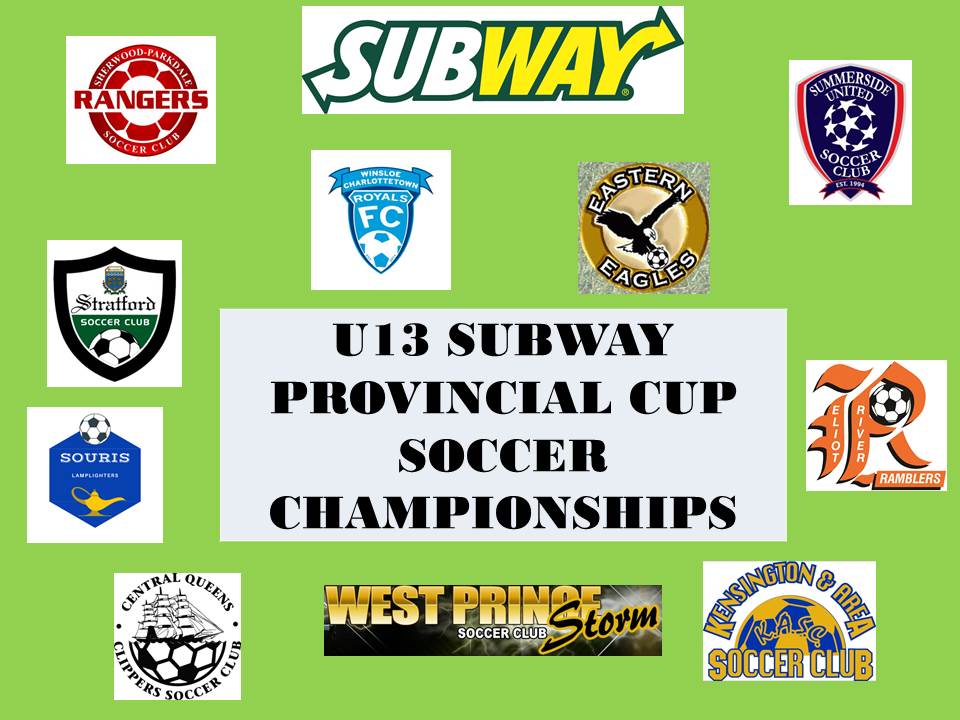 ---
Click on the links for team pictures.
Naomi Demeulenaere scored for Stratford and Ava Clark replied for Sherwood-Parkdale Rangers early in the second half and a penalty shootout was needed to break the tie.
In the end, Stratford came out the winner and champion in U13 Girls Premier Division.
Megan Mossey(2), Henry Nguyen, Luke Reid, Hugo Trembloy scored the goals in the 5-0 victory over Sherwood-Parkdale Rangers to win the u13 Boys Premier division Championship.
Ty Nogler had the shutout.
Katlyn MacKendrick, Jada Doucette, Katherine Arsenault and Kenley Noye scored for the West Prince Storm to win the U13 Girls Division 1 Championship over Sherwood-Parkdale Rangers by a score of 4-1.
Mia Shaw had the lone goal for the Rangers.
Anders Schmidt - Kensington & Area SC and Cash Fisher - Winsloe-Charlottetown Royals FC provided shutout goalkeeping and the two teams were deadlocked at the end of regulation.
Penalty kicks were needed and WC Royals FC came out on top to win the Division 1 Championship.
Lacey Gallant, Mirthe DeHaan scored first half goals for Central Queens Clippers and Jade Archibald and Avrie Smith scored two second half goals for Kensington & Area SC. Skylar Fairhurst scored the winner in the 61st minute to win it 3-2 for the Clippers.
Christian Cardona, Jett Hebert, Flynn Campbell and Sloan Campbell scored for Sherwood-Parkdale Rangers in their 4-2 victory over Winsloe-Charlottetown Royals - White.
Jonathan Kent and Elliotte Gordon scored for the Royals.
Soccer Saturday Schedule - August 28, 2021