Indoor Soccer Programs
---
PEI SOCCER Youth Player Development Program - Indoor Fall 2021 & Winter and Spring 2022
The program takes place at the Norton Diamond Indoor Soccer Complex located at 21 Myrtle Street in the Stratford Business Park(next to the Stratford Soccer Club outdoor soccer fields).


There are three separate programs (8 weeks each) which run in the fall, winter and spring each year.



GROUPS ARE BASED ON GRADES
Each program spans 8 consecutive weeks and runs every Monday night.
$100 - 8 Sessions
REGISTRATION FOR THE FALL/WINTER/SPRING 2021/2022 CYCLE WILL OPEN UP IN SEPTEMBER 2021.
PAYMENT FOR PROGRAM REGISTRATION IS REQUIRED AT TIME OF REGISTRATION FOR ALL PROGRAMS - FALL - WINTER - SPRING.
ALL FALL PROGRAMS ARE FULL FOR FALL 2021.
K & GRADE 1 WINTER AND SPRING - FULL
GRADE 2 & 3 WINTER AND SPRING - FULL
GRADE 4 &5 WINTER AND SPRING - SPACES AVAILABLE
GRADE 6/7/8 WINTER AND SPRING - WINTER SPACES AVAILABLE AND SPRING WAITLIST ONLY.
* If no registration appears after logging in, it means the program and waitlist are full.
*After logging in below, make sure you select the season - Player Registration Program - Fall, Winter and Spring.
IF REGISTERED FOR SUMMER SOCCER WITH A CLUB - YOU CAN USE THE SAME USERNAME AND PASSWORD HERE

- REGISTER HERE
REFUND POLICY:
- $10 non-refundable fee
- $90 refund if withdrawing from program 2 WEEKS PRIOR TO START DATE. NO REFUNDS AFTER THAT DATE WITH THE EXCEPTION BELOW.
- $80 refund if withdrawing after first session - applicable to K & Grade 1 registration only
SCHEDULE 2021 - 2022: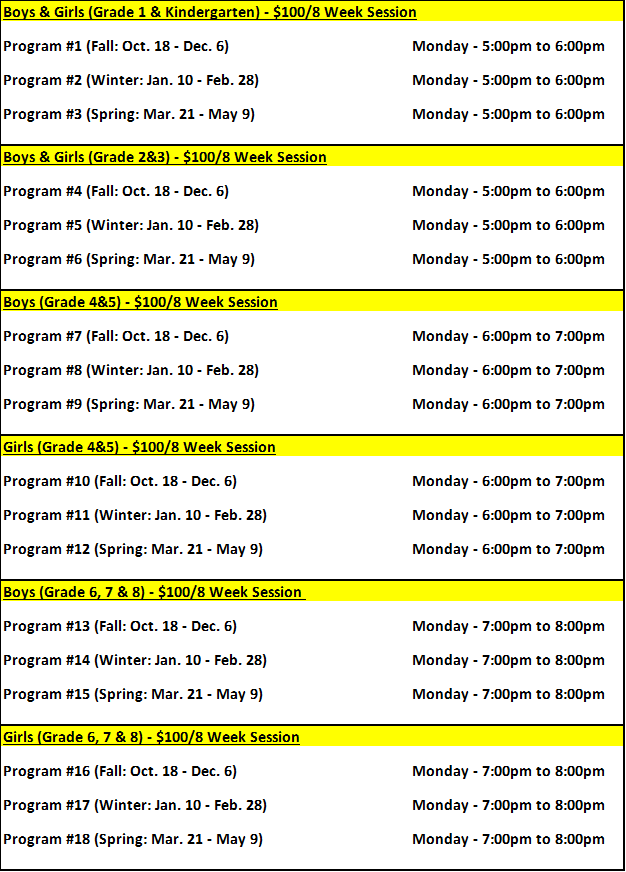 PEI Soccer- Youth Player Development Program
in accordance with the
Canadian Soccer Association - Long Term Player Development
2021/2022
Long-Term Player Development (LTPD) is the Canadian Soccer Association's pathway to success on both fronts of the Beautiful game: Recreational and Competitive soccer. LTPD is a player-centred approach that provides guidelines for correct training, competition, and recovery, based on scientific principles of human development and athlete training, combined with the knowledge of expert coaches.
Player-centred means we respect the developmental needs of our players first and foremost. We ensure that our young players have as much fun as possible while they learn so they want to continue playing. It also means we provide challenging opportunities for special talents so they can develop their abilities and pursue excellence. All of the needs are addressed in the LTPD stages to be covered this year with the ACADEMY.
Jonathan Vos, the Technical Director of the PEISA has recruited some of the highest qualified youth coaches from across the island to lead the ACADEMY youth programs. Their goal, above all others, is to provide the youth players of PEI, an atmosphere to develop their love of soccer. The coaches with the assistance of Varsity players from both UPEI and Holland College will direct structured sessions that will consist of fun organized drills/games and will conclude most times with a scrimmage amongst the players. This structure allows the coaches the ability to teach youth players the fundamentals necessary to develop and find success within the sport, while keeping the players motivated and engaged.

Coaching Staff
HEAD COACH - DANNY HILL
SUPPORT STAFF - VARSITY PLAYERS